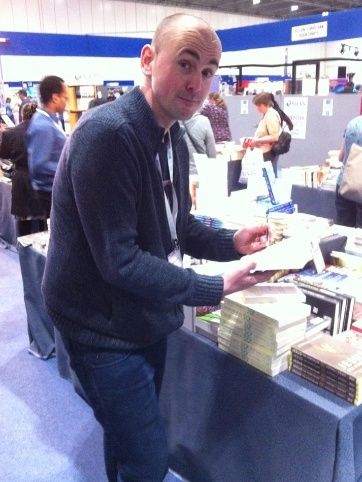 While we were away at CRE in London we had the pleasure of meeting Andy Kind, author of best-selling new fiction title
'The Unfortunate Adventures of Tom Hillingthwaite'
He signed a stack of copies of his book while he was with us, and we still have a handful of signed copies remaining.
It's an amazingly moving and amusing look at the highs and lows of pastoral work and community mission, and we think you'll love it!
Get your signed copies now while stocks last!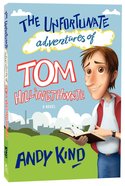 Admin




Posts

: 163


Join date

: 2015-02-17


Location

: Westbury, UK



I put this review on Fb yesterday.

This is one I've just completed: The Unfortunate Adventures of Tom Hillingthwaite by Andy Kind ISBN: 9780857214324 Published by Monarch.

Initially I thought I'd love this one and would romp through it at a rate of knots giggling all the way. Andy Kind is a well known Christian comedian, similar in vein to Tim Vine. Tom and his family who are from a very middle class background have moved to a rough urban estate where Tom is to take up the position of 'Community Builder' with Jesus4All (formerly the Turn or Burn Gospel Coalition) having been a carpet/floor covering salesman in the past. Effectively Tom's new position is what most of us would know as the church evangelist.

Right from the first chapter we see that Tom is a bit of walking disaster area in himself and it is his devoted wife who keeps the household (including two children) on an even keel. The elders in the church want 'bums' on seats and its Tom's job to get those seats occupied quickly. However, the elders are only good for giving their orders but not doing any of the leg work themselves.

Poor Tom, under pressure from the church elders, involves himself in street evangelism, various local clubs, societies & meetings but each time seems to come out the worse for wear. His wife however, is quite good at making friends and gathering together people who are seeking and ironically has more success than Tom although she isn't one to revel in her successes given that she has Tom and the rest of the family to organise.

There is an underlying mystery throughout which becomes quite poignant at the end and was very unexpected. There may be a further offering concerning Tom Hillingthwaite in the future but I doubt it is one I would bother with for myself. I love the TV series Rev; however, it comes in small chapters each series but with Tom lurching from one disaster to another I found this a little tedious chapter after chapter even if the humour is to my taste. If you like Rev then I would say that this is most definitely for you.

Upon reflection I think I'd approach it with the intention of only reading one chapter at a sitting and then I think I would find it far more amusing.

Early Reader





Posts

: 34


Join date

: 2015-04-04


Location

: Infront of the computer screen, Kent



So it's more like a Fawlty Towers kind of thing?
Early Reader





Posts

: 34


Join date

: 2015-03-23



I have to respectfully disagree with Amy's Auntie. I think Tom is a brilliant book and by far the most inventive comedy novel we've seen in the Christian world. Yes, he lurches from disaster to disaster in the first half of the book, but you can't have the payoff without building the stakes. The resurrection makes no sense without a crucifixion. Besides, Tom is not without hope during his disasters. It's not just a series of slapstick disasters, is it?

Leona123, I wouldn't say that's it's like Fawlty Towers, no. Other comedy has happened since 1979 and Tom draws on a lot of things. It's probably more like the American Office.

I for one would definitely read the sequel. I'll almost certainly reread the first one.



Posts

: 1


Join date

: 2015-06-08



Oooo a bit of a clash of opinions!

i don't think i've ever read any Christian comedic fiction....
(although i've certainly read a few Christian books that to me were brilliantly funny despite probably being very serious!)

but by the sounds of it, you're both saying it's worth a read?..
Dan for definite, and Sue you seemed to like it but gave it a badish review due to the haphazard/slapstick start?
Early Reader





Posts

: 38


Join date

: 2015-02-17



You're probably right. I did rush through it a bit and I agree Tom is never without hope. I am going to give it another go but a bit at a time next time.
Early Reader





Posts

: 34


Join date

: 2015-04-04


Location

: Infront of the computer screen, Kent



FINALLY started reading this. For ages it's been on that ever expanding 'to read' shelf/pile that i'm sure we all have.
Only 20 or so pages in so far, and you're right, it does take a bit of getting used to at first. I think i pulled a few 'seriously?!!' faces at my book before i adjusted to the concept that Tom's life isn't meant to reflect everyone's day-to-day so therefore you do need to suspend your disbelief a little. But that only took a page or two, and then i found myself really enjoying it. Especially the fact that the author drops in comments as part of Tom's running internal narrative that i'm sure cross all our minds, but things we don't mention because they're not particularly 'Christian' or a bit too taboo; the off-piste remarks, comments on the inner workings of marriage, or simply Tom's 'first big satisfying trump' of the day when he wakes up. So the realness of that against Tom's disaster-zone is making for an intriguing read.
I'm now very much regretting not opening this book sooner!
Early Reader





Posts

: 31


Join date

: 2015-06-12



---
Permissions in this forum:
You
cannot
reply to topics in this forum