Prayer is an adventure, but it often becomes stagnant as we try to fit prayer times into our busy lives.
This month SPCK are releasing a new and exciting book of 'prayer experiments' that encourage you to try different approaches to prayer, and discover new ways of connecting with God.
Interactive and accessible, this book will help bring prayer back to the forefront of your life in creative ways, and even includes space to record your experiences and thoughts as you journey through each exercise, and pages of verses and illustrations to colour.
Take a look!: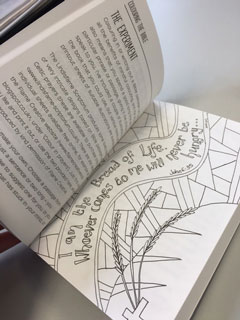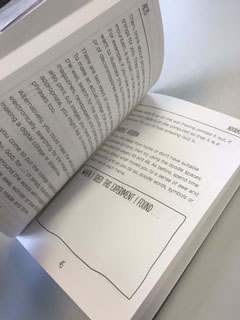 To celebrate it's release, a few of the Aslan team have decided to take part and post some of our 'results' here -
and you can join us too!
Order your copy and share how you're finding each exercise; the struggles and the successes!
We want to hear how you get on!
Find out more here:
The Little Book of Prayer Experiments
Admin




Posts

: 163


Join date

: 2015-02-17


Location

: Westbury, UK



Hi all!
I'm Holly from the Aslan team.
As Aslan_HQ mentioned, a few of the Aslan team will be following through the
The-Little Book Of Prayer Experiments
across the coming weeks and chronicling how we get on. We'd love you to join us and share your thoughts too!
To not give away too much from the book just yet.
Here's a bit of an overview:
As well as a foreword explaining how and why the book came into being there's a 12-page introduction. (Don't worry, it's a compact pocket sized book so the intro only takes a few minutes to read!).
I'm not usually one for reading prefaces or intros to books, but I read this one all the way through. Why? Because it's honest, and I love that!
Most introductions to books are quite waffling and ring the book's own bell a bit too much. This one doesn't.
Author Miranda Threlfall-Holmes explains the different ways this book can be used; from personal devotion to study groups, retreats, activity days, and more, and ideas for how or what order to go through the book in those settings - with practical tips and insight into how to make the most of it. But she also does something I wasn't expecting - she shares what doesn't work also.
Prayer is often a bit hit-and-miss, and a lot of people get deterred by times when their prayer life gets a bit stagnant, or something they've tried just didn't really do it for them.
Miranda doesn't deny that. In fact she mentions it several times, not in a self-effacing way, or to try and put you off doing the experiments at all. But instead with a refreshing honesty that says; you may not like some of these exercises, and that's okay.
The whole idea of this book is to get you out of your comfort zones a bit with prayer and find new ways of interacting with God. But comfort zones are often there because we know what we like. Sometimes broadening our horizons has successes, and sometimes it doesn't, but we'll never be able to expand that comfort zone to include new ideas we like unless we try several first!
Just like with menus at a restaurant, sometimes it's good to walk on the wild side a little and try something you wouldn't usually. You may find a new treasure, or you may find something that's not quite to your taste but that could work if you recreate it later down the line with a few different elements that work for you.
This book does the very same.
Seeing Miranda's honesty and freedom-giving outlook as she expands on the potential (and potential hiccups) of using the book in different settings made me really excited to get stuck in, knowing that whatever happens, the possibilities throughout were going to be worth the experimenting!
I'm ready!
Are you?



Posts

: 1


Join date

: 2016-06-15



I have tried the prayer walk experiment walking around my housing estate and praying for the area. I found this reflective, thinking about variety of lives lived by people on the estate and the issues each person and family might be facing. It often feels as if there is not much you can do for those that live around you especially with a lack of community interaction, but I felt like I was doing something by praying for God to bless and meet with people whatever way that will look. I found myself praying particularly for those facing poverty, addictions and family breakdown to find healing and restoration. I felt a little like I was sharing God's heart for the people that live in my area. I feel this is a very insightful and valuable experience definitely worth doing more often!



Posts

: 2


Join date

: 2015-10-28


Age

: 24




---
Permissions in this forum:
You
cannot
reply to topics in this forum