Love this idea!
-----
January 2016 Pick:
The Unfortunate Adventures of Tom Hillingthwaite
So my January book is kind of a cheat. I started it back in November after we were taking about it on another part of this
forum
. But only got 2 chapters in and then i accidentally left it in a suitcase and only found it again over christmas. Since i've still got 95% of it still to finish i'm going to make it my first one for the new year

'The Unfortunate Adventures of Tom Hillingthwaite' seems to come up quite regularly on this forum.
Let us know what you think!
Admin




Posts

: 163


Join date

: 2015-02-17


Location

: Westbury, UK



So i FINALLY finished reading this. It's been on that ever expanding 'to read' shelf/pile for a few months now, but i'm really glad i finally picked it up and gave it the time it deserved.
When you first start it, it does take a bit of getting used to. I think i pulled a few 'seriously?!!' faces at my book before i adjusted to the concept that Tom's life isn't meant to reflect everyone's day-to-day so therefore you do need to suspend your disbelief a little. But that only took a page or two, and then i found myself really enjoying it. Especially the fact that the author drops in comments as part of Tom's running internal narrative that i'm sure cross all our minds, but things we don't mention because they're not particularly 'Christian' or a bit too taboo; the off-piste remarks, comments on the inner workings of marriage, tongue in cheek humour, or those little judgements we make about those around us before we catch ourselves about having thought something 'not very loving'. So the realness of that against Tom's disaster-zone is making for an intriguing read.
The book is full of humour - some obvious, some not so much to the point that you'll find yourself reading a weird sentence a few times over before it clicks as being a quip rather than bad writing

And it's also great to see a book that has a message about how we share the gospel, and the ways in which we can have a positive and lasting impact on our community, but a message expressed completely differently from your standard 'Christian Life' book. The fictional element allows you to draw comparisons with your own life without feeling too condemned or preached at, and by the end you find you've got a new passion to step out into your community and be a loving influence to those around you.
The only bit i didn't like particularly was something someone mentioned about this book on a different part of the forum. There's a 'mystery' that runs throughout, that you only discover the meaning of in the last chapter... but it's very predictable, and would probably have made for a much better book without it as the rest of the story ends really well, but the mystery itself isnt really focal enough throughout the rest of the book to warrant it having the last word and it seems like a bit of an after thought chucked in to give the book an extra dimension it doesn't need.
Sounds harsh, but that's my only criticism.
Other than that i really liked it, and immediately gave it to my housemate to read as well.
If you want a break from the 'norm' of Christian Fiction, are an over-thinker when it comes to your own life and interactions with others, or simply like British humour... this book is definitely something to read!
My February pick isn't a Christian book, but has strong messages about redemption, forgiveness, and the indestructability of love.
I read
The Unlikely Pilgrimage Of Harold Fry
a few years back, and it was a real stand-out book for me. One of those ones you automatically recommend to pretty much everyone. And one of a very short list of books that's made me laugh out loud, and also cry.
When i heard there was a follow-up one to that, i had to get it!
So my book choice for February is
The Love Song Of Miss Queenie Hennessy
I'm already halfway through. It's not as good as the first (they never are!) but still really enjoyable. Although i am a bit suspect about one element of the storyline and part of me thinks that it'll be similar to last month's book in terms of having a part of the plot running through that's only revealed at then end, even though it's pretty predictable.
I am enjoying seeing new elements to the first story, especially in relation to Harold Fry's son, who's character didn't really have much involvement in the first book. Harold's wife seems surprisingly absent in the storyline so far though.
Anyway, we'll see.
If you've not read
The Unlikely Pilgrimage Of Harold Fry
- buy it and read it immediately!

So after posting that on Thursday i ended up getting so caught up in the book that i finished it over the weekend!
As suspected, 'mystery' that wasnt a mystery but a really obvious plot twist at the end was pretty predictable. And the book as a whole was pretty depressing - the kind when you need to go and do something happy after to balance it out.
But given the subject matter it couldn't ever be cheery! Still had a few laughs on the way through though and was a good read.
The first book out of the two in Rachel Joyce' series definitely still has my heart and sits at the top of my favourites list for sure!
Now to find something non-fictiony for March to even this out

Because i finished February's early, i decided to get a head start on March.
Just as well i did because i really can't get into the book i went for.
I've had '
Cross Roads
' by Wm. Paul Young (author of
The Shack
) on my shelf for ages so i thought i'd give it a go, but found it so hard going.
I usually read as a way to relax and switch off, but
Cross Roads
is so wordy i found that i really needed to focus on it.
Might try reading it at another time and not just before bed

In the mean time, im on a hunt for something else... might try something off Aslan's February picks list.
So after talking about this book on another part of this forum (here:
http://aslanchristianbooks.forumotion.co.uk/t59-dear-bob-annie-porthouse)
i FINALLY got round to reading 'Dear Bob'
Im only part of the way through but i forgot how much i LOVED this book as a student.
Although it does make me feel officially old when you read bits with references to things that aren't a staple part of British life anymore. Like hearing Chris Moyles on the Radio 1 Breakfast Show (no offence, Nick Grimshaw!)
Im going to be sad when i finish it again, but that goodness there's the follow-up book 'Love Jude'
It's totally not cheating to read a sequel as the next month's book is it? Ok, maybe it is!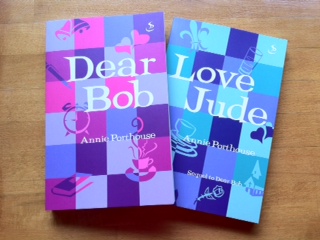 ---
Permissions in this forum:
You
cannot
reply to topics in this forum